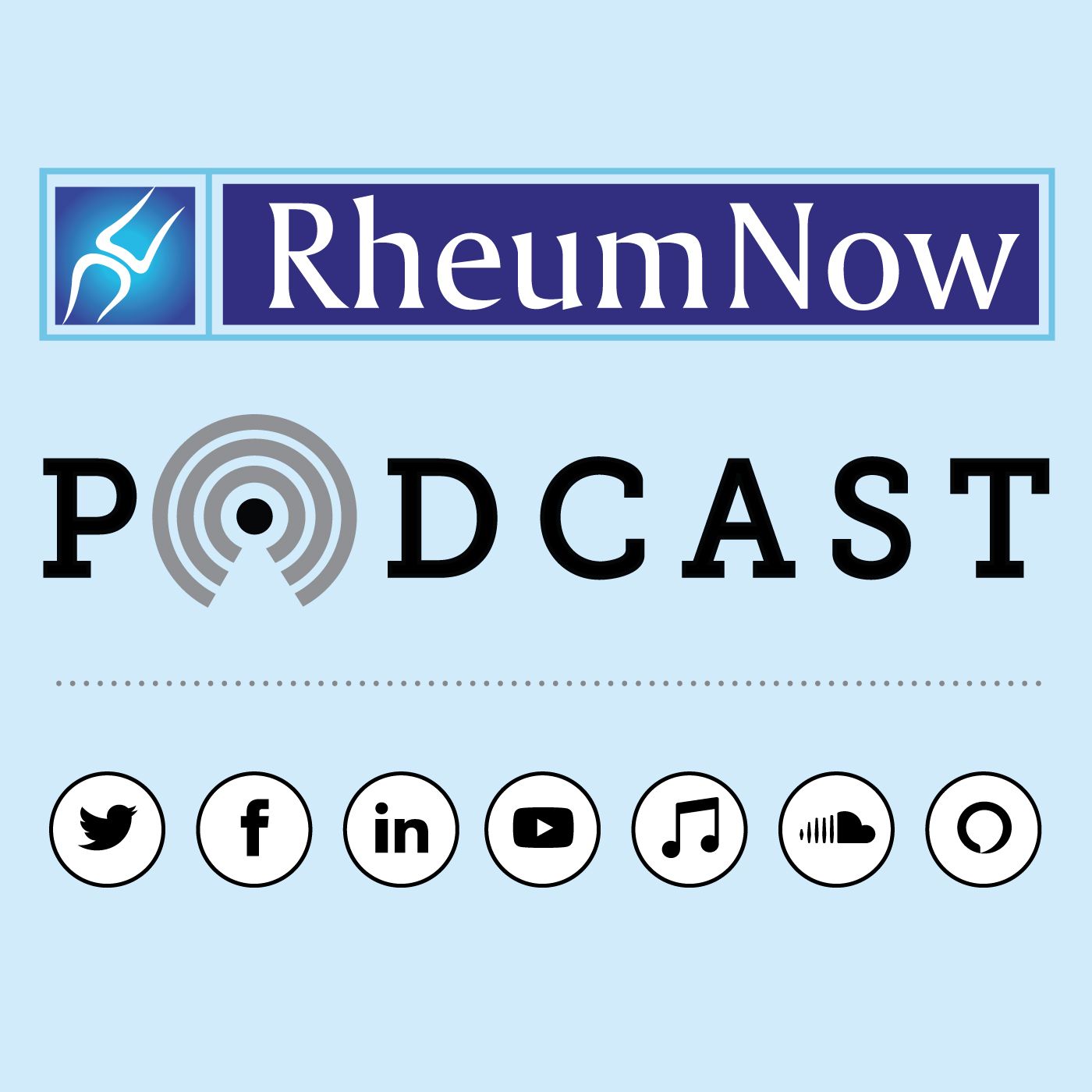 New to RheumNow? 
Rheumnow.com is a news source dedicated to the field of Rheumatology. It is written by experts in the field, and written for rheumatologists and individuals working in related fields. 
In this episode, Dr Jack Cush reviews the news, journal articles and FDA warnings from the past week on RheumNow.com
A population based Swedish study of birth records shows that antibiotic exposure in first three years of life to be associated with a future risk of JIA, although infections during fetal life or childhood did not increase risk of JIA. #RheumNow https://t.co/Md0zBm5Txl
Alendronate may protect against type 2 Diabetes. Data from National Danish Patient Registry, presented at the EASD meeting compared 160k T2DM & 500k controls, T2DM following alendronate adjusted OR=0.64; 0.62-0.66; ⋗8yrs OR=0.47 https://t.co/RYEZodUZtv
Analysis of 508 #RA pts (over 10 yrs) in the BeST study shows joint swelling at baseline resulted in half w/ re-swelling later and significantly increased risk of same joint swelling during follow-up (OR 2.37, 95% CI 2.30 to 2.43, p⋖0.001) https://t.co/a7zH4YRAkq
Finnish Pop study 939 #RA pts shows highest healthcare costs linked to high Dz activity & comorbidity. Clusters: C1) young w/ low costs & activity, C2) chronic pain, disability, fatigue, C3) high cost/dz activity, less pain, C4)comorbidities w/ $$$  https://t.co/Azc35zyA9J
A longitudinal study from Iceland shows an increasing number of native joint infections (NJI), with iatrogenic, postarthroscopic infections being of particular concern. Read more… https://t.co/j3gzZ9g0QV
Case controlled study suggests that intraarticular steroid injections is associated with increased (HR 8.56; 3.29-22.3) risk of rapidly destructive hip disease (RDHD); at a rate of 5.4% (5.1 mos post injx) w/ JSN, osteolysis, fem head collapse https://t.co/grX5bO4495
Biosimilar update: 31 FDA approved biosimilars, but only 60% made it to market. 2015 to 2019, drug spending grew 6.1%, biologic spending grew 14.6%; biologics are 43% of US drug spending. Most biosimilars at ~30% discount.  https://t.co/4paYH8yVLQ
Study Finds U.S. Generic and Biosimilar Savings Totaled a Record $338 Billion in 2020  https://t.co/hPR0nGd6jp
Can I get the INFLUENZA and COVID Vaccines together? The CDC says: "YES...both vaccines can be given at the same visit, people should follow the recommended schedule for either vaccine.... ideally get a flu vaccine by the end of October."  https://t.co/T49zm6Cxyc
MMWR shows the safety of a 3rd (booster) dose of the mRNA vaccine to be same as the 2nd dose AEs. V-safe data on 3rd dose (n=12,591) showed local or systemic effects (79% or 74%) to be same as 2nd dose (78% or 76%)  https://t.co/LcD0ARlWJ2
CDC Advises COVID-19 Vaccines for Pregnant Women https://rheumnow.com/news/cdc-advises-covid-19-vaccines-pregnant-women
U.S. Preventive Services Task Force (USPSTF) reaffirmed its recommendations that pregnant women at a high risk of preeclampsia should take a daily aspirin regimen at the end of the first trimester  https://t.co/DiV7p6g8vL
Is Acetaminophen Potentially Hazardous in Pregnancy?  https://rheumnow.com/news/acetaminophen-potentially-hazardous-pregnancy
#RA patients had an an increased risk of mortality after CABG (HR 1.50; 1.28-1.77); and a higher risk of MI following CABG (HR 1.61; 1.28-2.04). A retrospective Finnish study comparing RA (n= 378) to nonRA patients (n = 7560)  https://t.co/cGGsrLs1V2
Early Diastolic Dysfunction in Premenopausal Women with RA  https://rheumnow.com/news/early-diastolic-dysfunction-premenopausal-wom…
108 pts with autoimmune cytopenias (TTP, ITP, AIHA, etc) were given COVID vaccination showing low rate of post-vax flares. Signif HEME decreases in 7.4% of AIHA & ITP; mild decrease in 10% AIHA and 20% ITP, w/ no Rx change https://t.co/OaHILar57z
Global SECURE-IBD trial on IBD drugs and COVID shows that severe COVID-19 outcomes were not associated with the use of biologics and mesalamine/sulfasalazine, AZA, 6MP, MTX combo Rx or biologics (TNFi, IL-12/23, IL-23, integrin inhib)  https://t.co/MO4i5ngKkr
Questions & Cases
Approach to dental surgery while on bisphosphonate
Recurrent shingles while on adalimumab
Myositis after COVID-19 vaccine
CONNECT WITH RheumNow 
✩ Website - https://rheumnow.com/
✩ Subscribe @ RheumNow: https://rheumnow.com/user/register
✩ LinkedIn - https://www.linkedin.com/in/john-cush...
✩ RheumNow LinkedIn: https://www.linkedin.com/company/rheu...
✩ Twitter - https://twitter.com/RheumNow
Listen | PODCAST
Apple Podcasts: https://podcasts.apple.com/us/podcast...
Spotify: https://open.spotify.com/show/4Mjzj5j...
Stitcher: https://www.stitcher.com/show/the-rhe... 
TuneIn: https://tunein.com/podcasts/Health--W...
Podbean: https://rheumnow.podbean.com/
Got a Rheumatology question or case for Dr. Jack Cush? Record it here and we'll feature it on an upcoming podcast.  Tell us your name and where you practice rheumatology.
BackTalk: https://rheumnow.com/submit-podcast-q...