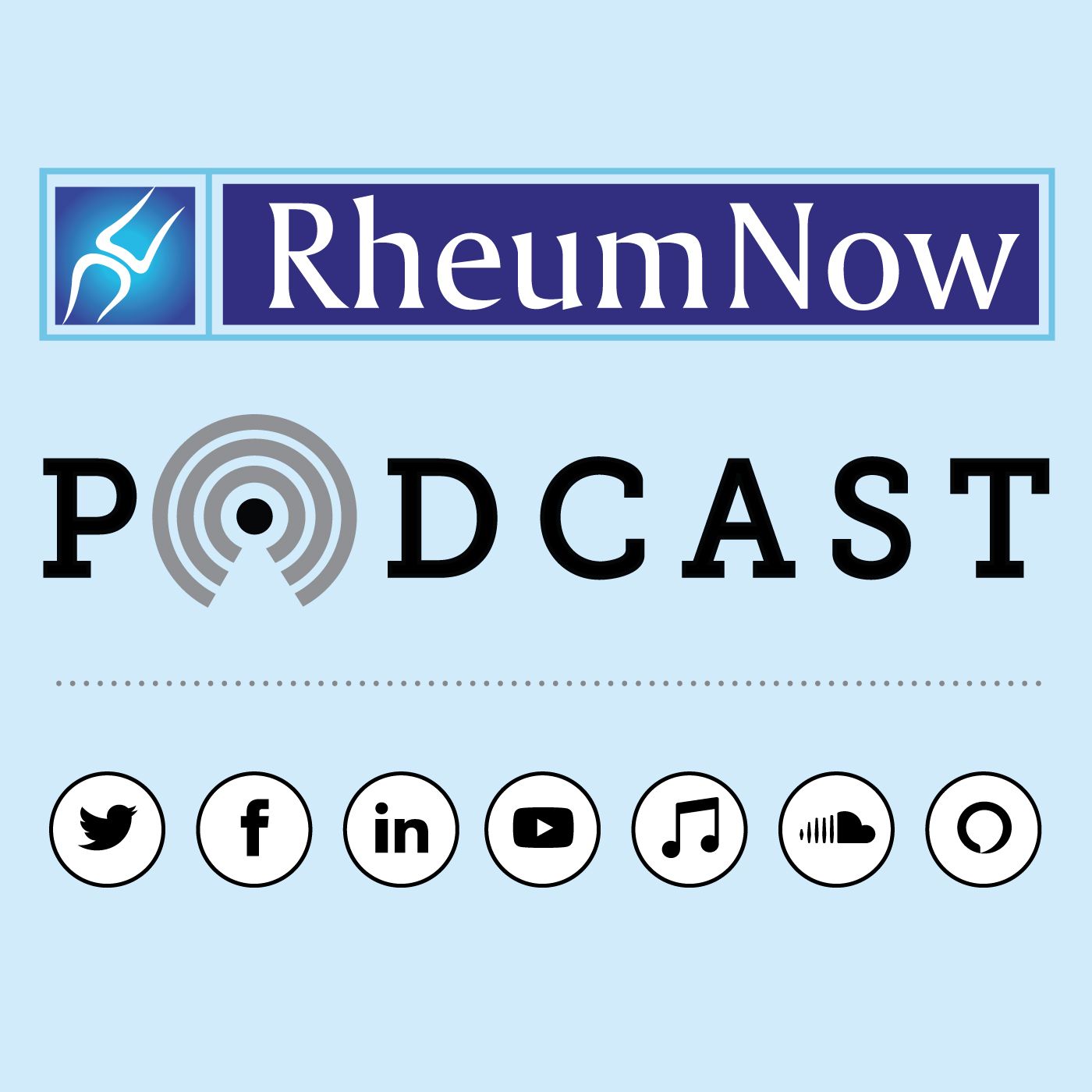 New to RheumNow? Rheumnow.com is a news source dedicated to the field of Rheumatology. It is written by experts in the field, and written for rheumatologists and individuals working in related fields.
In this episode, Dr. Jack Cush reviews the news and journal articles from the past week on RheumNow.com
Metanalysis of JAK inhibition (tofacitinib & ruxolitinib) in alopecia areata - 12 studies, 346 Pts, Rx success (using SALT50 resp) was 66%, not influenced by age, sex, subtype. Alopecia recurrence seen w/in 3 mos of JAK D/C (in74%) https://t.co/CBSy4Kci80
Population study shows risk of H. Zoster in adults to be high among bDMARD and CTX, also increased w/ AZA and HCQ but not MTX SSZ or LEF users. Data from 254065, 1,826311 Pt-Yrs F/U, 6295 new DMARD users, 17024 incident HZ https://t.co/1TeOAWN9LB
MMWR reports that during the COVID Delta variant era, Vaccination against COVID-19: - Reduces risk of COVID-19 infection 5X - Reduces risk of COVID-19 Hospitalization ⋗10X - Reduces risk of COVID-19 DEATH 10X https://t.co/rMRY84xX5F
Study of 265 students w/ a positive COVID-19 test looked at 378 close contacts. Infx rates w both persons masked -7.7%, but when unmasked-32.4% (aORs = 4.9) https://t.co/fYdH33JbWR
Effect of Diet on COVID Outcomes Probenecid, an OAT3 inhibitor, has inhibitory effects on RNA viruses (influenza, RSV) & decreases ACE2 expression. May have utility in COVID-19 as it was shown to inhibit SARS-CoV-2 replication in animal modelshttps://t.co/MClSjpqpSa
Mease and colleagues have catalogued the current practices assessed in the CORRONA registry, noting that increased DMARD switching and decreased time on a given therapy by US physicians. https://t.co/cIWZw6KsuI
A retrospective study of systemic sclerosis patients shows that acute hospitalization and mortality were not uncommon and were often linked to SSc-related lung disease. #RheumNow https://t.co/s5wSlndTrt
Cases and Questions (AKA Back Talk) "What treatment do you use after 2 years of teraparitide in a woman with a hx of OP, spiral fracture while on a bisphosphonate"? Forteo PI. "Do you have any inside info on the vaccines for COVID-19 during pregnancy?" OCOG Statement "Status of the Tocilizumab Shortage"? Genentech Statement "How would you treat polyarthritis in a renal transplant patient?"
CONNECT WITH RheumNow
✩ Website - https://rheumnow.com/
✩ Subscribe @ RheumNow: https://rheumnow.com/user/register
✩ LinkedIn - https://www.linkedin.com/in/john-cush...
✩ RheumNow LinkedIn: https://www.linkedin.com/company/rheu...
✩ Twitter - https://twitter.com/RheumNow
Listen | PODCAST Apple Podcasts: https://podcasts.apple.com/us/podcast...
Spotify: https://open.spotify.com/show/4Mjzj5j...
Stitcher: https://www.stitcher.com/show/the-rhe...
TuneIn: https://tunein.com/podcasts/Health--W...
Podbean: https://rheumnow.podbean.com/
Got a Rheumatology question or case for Dr. Jack Cush? Record it here and we'll feature it on an upcoming podcast. Tell us your name and where you practice rheumatology. BackTalk: