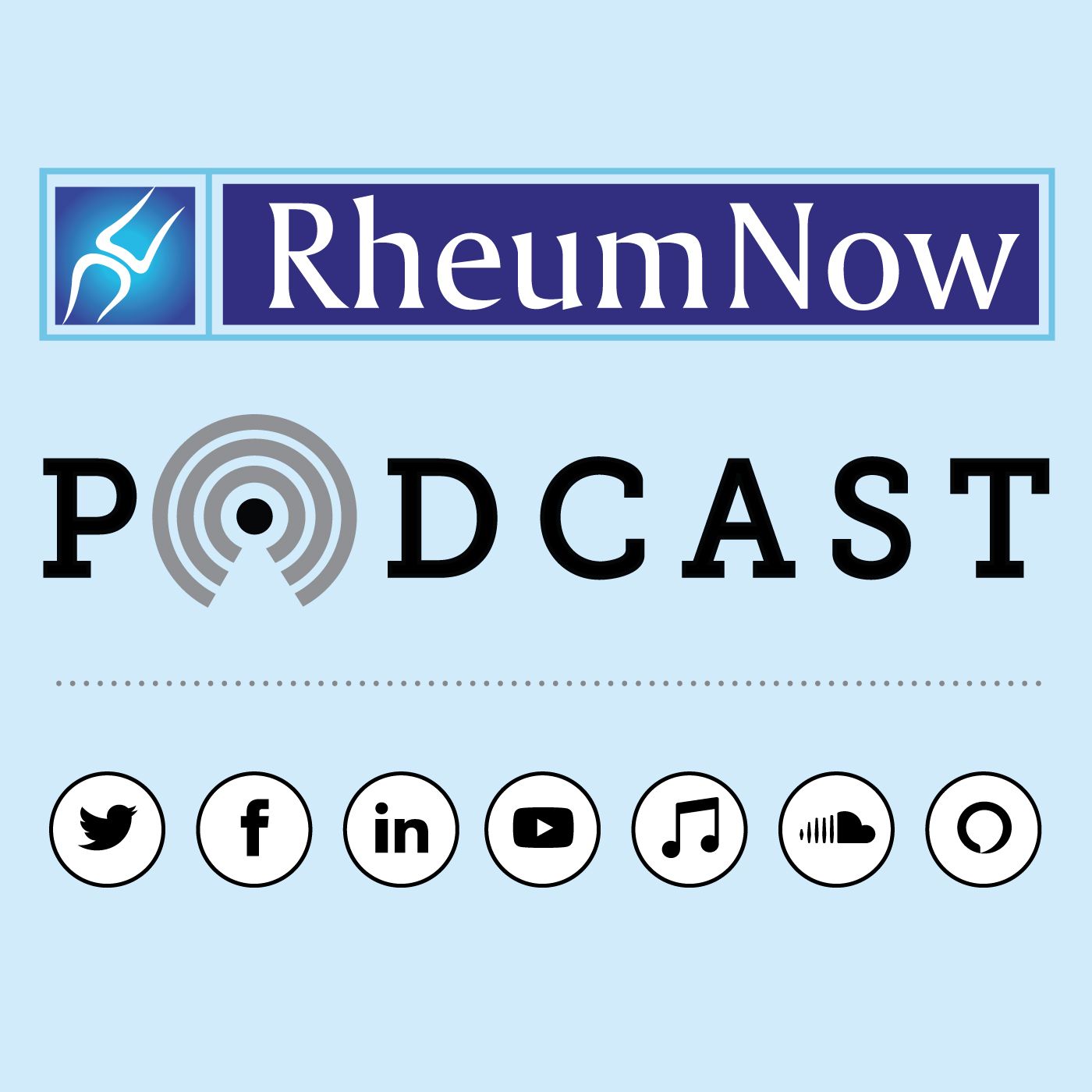 New to RheumNow? Rheumnow.com is a news source dedicated to the field of Rheumatology. It is written by experts in the field, and written for rheumatologists and individuals working in related fields.
In this episode, Dr. Jack Cush reviews the news and journal articles from the past week on RheumNow.com
Study of 435 #SLE pts seen during the pandemic. Comparing those seen F2F vs telemedicine, there was no significant difference in SLE disease activity (by SLEDAI-2K) or SLE flare rates or steroid prescribing between visit types https://bit.ly/39wWoQ6
Encouraging DBRPCT of Rituximab in #PMR: 116 screened, 49 enrolled, 47 completed: 23 on RTX vs 24 on PBO. Steroid-free remission at 21 wks seen with 11/23 (48%) RTX pts vs 5/24 (21%) on PBO (p=0·049). Infusion Rxns: 10 RTX vs 3 PBO); 1 SAE (PE) on RTX https://bit.ly/3lSI0rj
Pregnancies exposed to ixekizumab (from Eli Lilly Global Safety Database) found 193 pts with psoriasis, PsA, or axSpA who were IXE exposed. Live births reported for 53.8 and 61.1% of known outcomes. No congenital malformations seen. https://t.co/M1rvCH81hT
FDA approves Jakafi for chronic GVHD. Ruxolitinib (Jakafi, Incyte), an oral Janus kinase 1/2 inhibitor, previously received approval for treatment of patients aged 12 years or older with steroid-refractory acute GVHD. https://t.co/isItDebNZ8
Retrosp. review of 10–24 yr olds w/ newly Dx #SLE shows 78% given steroid-sparing DMARDs by year 1; Most (69%) given HCQ & fewer (34%) given other immunosuppressants. Adults less likely to recv immDMARDs @1 yr https://t.co/aLi6FXlMd3
Case controlled study shows CPPD pts have no higher risk for MACE. 23,124 CPPD vs 86,629 non-CPPD, w/ ⋗ 250,000 Pt-Yrs FU. CPPD MACE risk not increased (HR 0.98), but there was incr risk of MI, CVA & acute coronary syndr. https://t.co/pgmZBxTg9O
Trade names: Generic PFIZER = Comirnaty; MODERNA= Spikevax Moderna; J&J (pending) https://t.co/MM7XiSCczl
Prospective study of 77 RA patients in remission -- ⋗ vax w/ BNT162b2 (BioNTech-Pfizer) (w/ temp D/C of DMARDs per ACR) found a vaccine-related flare rate of 7.8% (6 pts) w/ 5/6 flares after 2nd dose (2.6 days), resolved w/in 2 wks https://t.co/YOL3YVS2ne
Dr. Calabrese shares his Delta COVID-19 breakthrough story on the blog today. https://t.co/timjB2YPys
BMJ Breakthrough infections from UK QResarch database: Among 6.95 million vaccinated, 74.1% recv two vaccine doses, there were 2031 covid-19 deaths & 1929 hosp admissions; ~4.0% deaths & admissions were ⋗14 days after 2nd dose Addendum: COVID deaths increased w/ age, deprivation, male, Indian & Pakistanis. Highest risk w/ Down's syndr (HR 12.7), renal transplant (8.1), sickle cell (7.7), Nursing home (4.1), chemotherapy (4.3), HIV/AIDS (3.3), liver cirrhosis (3), CNS dz (2.6) Addendum: Other conditions w/ a 1.2-2 fold higher risk of COVID death (admission) were CKD, hematologic cancer, epilepsy, COPD, CVD, stroke, atrial fibrillation, CHF, thromboembolism, PVD, type 2 diabetes. https://t.co/bbDsb1zLhX
Claims case-controlled study shows statin use does not increase the risk of #RA - 32,726 RA and matched controls ; statin use (34 vs 32%) slightly increased RA risk (OR 1.12, 1.06–1.18), but signif lost after correcting for hyperlipidemia https://t.co/EcTlyE1MPx
High Comorbidity Rates with Inclusion Body Myositis Guselkumab Treats Axial Disease in Psoriatic Arthritis 11 Drugs That Cause Arthritis https://rheumnow.com/news/11-drugs-ca...
Viewer Question – A positive anti ds DNA in the absence of clinical evidence of lupus?
CONNECT WITH RheumNow
✩ Website - https://rheumnow.com/
✩ Subscribe @ RheumNow: https://rheumnow.com/user/register
✩ LinkedIn - https://www.linkedin.com/in/john-cush...
✩ RheumNow LinkedIn: https://www.linkedin.com/company/rheu...
✩ Twitter - https://twitter.com/RheumNow
Listen | PODCAST
Apple Podcasts: https://podcasts.apple.com/us/podcast...
Spotify: https://open.spotify.com/show/4Mjzj5j...
Stitcher: https://www.stitcher.com/show/the-rhe...
TuneIn: https://tunein.com/podcasts/Health--W...
Podbean: https://rheumnow.podbean.com/
Got a Rheumatology question or case for Dr. Jack Cush? Record it here and we'll feature it on an upcoming podcast. Tell us your name and where you practice rheumatology.
BackTalk:https://rheumnow.com/submit-podcast-question-or-comment